Mediterranean Lentils

recipe
Lentils are cooked with marinated mushrooms, tomatoes and olives in this nutritious and delicious lentil dish. If you want to, serve it with chicken or beef steaks for a bit of extra protein.
Ingredients:
450g chestnut mushrooms
375g dried lentils
1 x 400g tin chopped tomatoes
125ml vegetable or chicken stock
75g pitted black olives, thinly sliced
4 tbsp. extra-virgin olive oil
Juice and zest of one lemon
1 tsp. dried thyme and oregano
Salt and pepper
Method of Preparation:
Halve the mushrooms. In a bowl, combine oil, lemon juice, zest, thyme, oregano, salt and pepper. Add the mushrooms and toss to coat, then set to one side for an hour.

Rinse the lentils and put into a saucepan with some salt and plenty of water. Bring to the boil, reduce to a simmer and cook for 15-20 minutes until tender. Drain.

Heat a large frying pan. Add the mushrooms and their marinade. Fry over a medium heat, until the mushrooms and golden brown and have released all their juices.

Add the cooked lentils, tomatoes, stock, olives and salt and pepper to taste. Stir and then simmer for about 10 minutes until the sauce thickens and the mushrooms are tender.
Author: Laura Young.
Back to the Lentil Recipes home page.
Add a Review or Comment:
Conversions
450g
about 16 oz

(15.87285 oz based on 0.035273 ounces in a gram)

375g
about 13 oz

(13.227375 oz based on 0.035273 ounces in a gram)

400g
about 14 oz

(14.1092 oz based on 0.035273 ounces in a gram)

125ml
about ½ cup

(0.5283 cups based on 236.59 mililitres in a US cup)

75g
about 3 oz

(2.645475 oz based on 0.035273 ounces in a gram)
Data:
Published:
March 19, 2012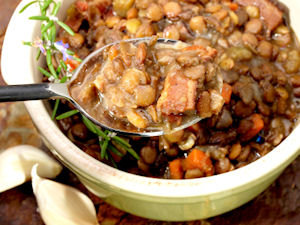 Similar Recipes:
Spanish Lentils


Try cooking lentils in a Spanish style rather than the usual Asian style by frying them in chorizo, garlic and shallots before ...

Curried Coconut Lentils


This surprisingly simple lentil dish combines the simple earthy flavours of lentils with the flavour combinations of onion, gar...

Garlic Lentils


This easy side dish is perfect with all sorts of food, such as grilled chicken, steamed fish and even grilled steak. Garlic and...